Beyond Knowing
In the conquest to make learning fun, exciting and challenging, we at Sookshmas are happy to introduce you all to our new series of learning game "Beyond Knowing". This game is an everyday opportunity for the students to explore themselves and to build self learning strategy. It's a game to prepare for competitive exams, board exams or higher education to excel their knowledge bit by bit to develop greater skills along with winning spirit.
Eligibility
Beyond Knowing game is currently open only for the all competitive exams and higher education students.
Daily activities for game
Timeline for activities
Play Quiz, Post Quiz and Commenting : Upto 10 PM
Reply and Clapping : Upto 11 PM
Result Announcement : After 11 PM
Winners Criteria
Winners will be categorized into three categories as Daily Winners, Weekly Winners and Monthly Winners.
1) Daily Winners
Daily winners are selected alternatively as follows:
Based on Points
Random Selection

Criteria for Random Selection

Random selection will be announced for the participants having the points above cut-off .
Cut-off points will be approximately 50% of the top scorer's points of the day.
2) Weekly Winners
Weekly winners are selected alternatively as follows:
Based on aggregate points of the week
Random Selection

Criteria for Random Selection

Students must satisfy the criteria of cut-off points.
Cut-off points will be approximately 50% of top scorer's points of that week.
Students must be regular for last 7 consecutive days.
3) Monthly Winners
Monthly winners will be selected based on the aggregate points of the month.
Points details
Points chart
| | |
| --- | --- |
| Play Quiz Score | 90%, Max 27 Points |
| Sookshmas Score | 10% Scaled to Play Quiz Score |
| Quiz Post | 1 post = 10 points (max. 10 points) |
| Comments | 1 comment = 1 point (max. 10 points) |
| Clap Points | 1 clap = 0.1 point (max. 10 points) |
Bonus Points
Students will be given bonus points based on the following factors:
Regularity 5 Points, who are regular in the game for continuous 4 days.
Mentor 5 Points, who are becoming weekly mentor.
Level Upgrade 10 Points, who have promoted to next level while playing the game.
Play Quiz Invitation 1 Point for every 10 invites.
Quality 0.5 points for post, 0.2 points for comment and 0.5 points for reply for good content quality.
Beyond Knowing Points distribution diagram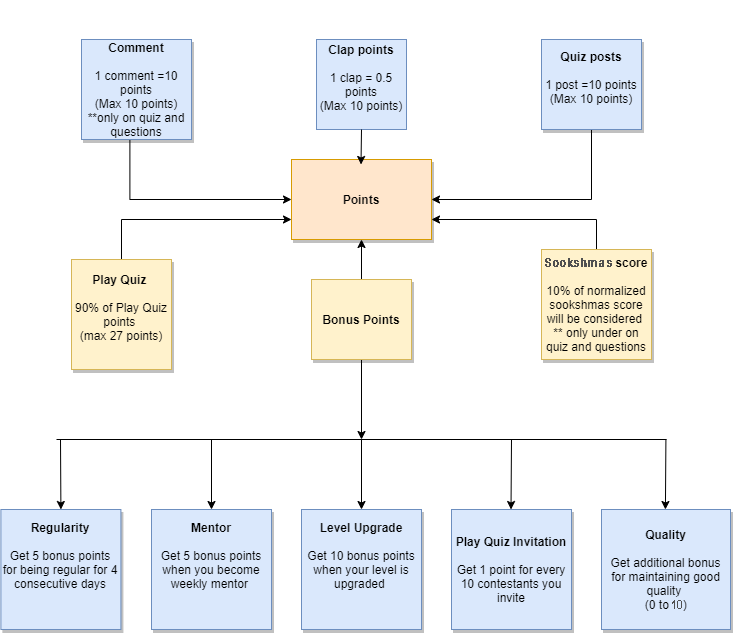 Rewards
To redeem rewards, candidates must upload their student id proof and their profile must be accurately updated with email, mobile number, profile picture, account tags and About info.
| | |
| --- | --- |
| Daily Winners | Rs.10 - Rs.100 (25% of total participants, Max 10,000 students) |
| Weekly Winners | Rs.50 - Rs.1000 (20% of total participants, Max 5,000 students) |
| Monthly Winners | Rs.100 - Rs.4000 (10% of total participants, Max 2,500 students) |
Minimum Participation criteria for announcing results in main pool
| | |
| --- | --- |
| Daily | 50 participants |
| Weekly | 200 participants |
| Monthly | 400 participants |
In case when above criteria is not met, then the results will be announced in General Pool which includes all other pools where the criteria is not met.
Note: This limits and terms can be changed by Sookshmas at any point of time based on participation's.
Counselling
Online/telephonic counselling can be done for any of the participant to verify the fair participation in the Beyond Knowing game.
Weekly Mentors
Weekly mentors are responsible to ensure the content(quiz/question, comment and reply)quality and tags format.
Privileges of Weekly Mentors
Weekly Mentors have a privilege to get 0.2 points for each reply (Max. 10).
Weekly Mentors will also have an opportunity to become Monthly Mentors.
Monthly Mentors
Recruitment process for Monthly Mentors
Round One - Candidate must have served as a weekly mentor at least once.
Round Two - In this round there will be two steps, Technical and Group Discussion and it will be conducted in 4th week of every month at announced venue in the same day.
FAQ's
How many Monthly mentors will be recruited for every month?
Monthly mentors will be recruited in the ratio 100:1 (BK Participants : Monthly Mentors) for each active topic.
Is the position for monthly mentors is fixed once they recruited?
Yes, but in case if mentor's performance is not satisfactory or found involved in any kind of wrong activities may lead to disqualify without any prior notice.
How much stipend is given for Monthly mentors?
Stipend for Monthly mentors is depended on their levels in the following manner:

| | |
| --- | --- |
| Level 2 | 5k |
| Level 3 | 6k |
| Level 4 | 7k |
| Level 5 & above | 8k |
To know more about level upgradations and its flow, click here
Roles and Responsibilities of Monthly Mentors
Instructing users and weekly mentors to form questions, comments and replies.
Reviewing the content of the users.
Providing quality bonus.
Activating reply chain.
Live Review/week.
Suggesting users regarding the content.
Maintaining overall discipline in the Beyond Knowing.
Beyond Knowing Referrals
Beyond Knowing referrals is a program which provides an extra opportunity for the students to earn and motivate their friends towards learning. Under this program Sookshmas will select referee from weekly and monthly best performers/achievers through Beyond Knowing game.
Every Wednesday, Top 5 Best Performers will be selected as a referee for a week.
Candidates who gets selected as a referee will get an email regarding the discounts and earnings details.
Advantage of being a referee
Referral earnings for each BK subscription.
You can refer upto 100 subscribers of each four different Beyond Knowing subscription plan.
Referral earnings for different subscriptions plan
| | |
| --- | --- |
| Subscriptions plan | Referral earnings |
| Rs.399/month | 50 |
| Rs.1099/3 months | 125 |
| Rs.2099/6 months | 250 |
| Rs.4099/year | 500 |
Referees milestone chart with number of referring
| | | | |
| --- | --- | --- | --- |
| No of referrings | within a week(Voucher worth rupees) | within a month(Voucher worth ruppes) | >month(Voucher worth rupees) |
| 25 | 500 | 400 | 250 |
| 50 | 1000 | 800 | 500 |
| 100 | 2000 | 1600 | 1000 |
This Representation helps you to understand the flow of milestone program and the benefits through that.
When you refer the number of students accordingly as given in milestone chart, it helps you to avail the voucher of the above worth rupees as shown.
Including the vouchers you will be getting referral earnings for each subscription.
Referring in the given time limit leads to get higher worth rupees voucher as given in the milestone chart.
Important Instructions
Every participant must set their "Account Tag" as per the game "Topic Tags", conditionally their current studies must be related to game topic that they are participating.
Rewards will be given to the winners after verification(Student Id Proof).
Participants can participate only once in a day, if there are multiple attempts then only the first attempt will be considered.
Candidates participated in the given time period will be only qualified for the game.
Before posting review your questions, options and answer properly.
Sookshmas reserves the right to disqualify any participant if found violating the game rules or any inappropriate activity.
Do's
Play fair
Post self made content
Comment informative content only
Appreciate by clapping only
Participate more into discussions
Ensure proper post tags
Follow others to improve your visibility
Dont's
Don't post inappropriate content or out of stream topics
Duplication of content (posts, comments and replies) is strictly not allowed
Do not violate the discussion rules.
NOTE: Contact us on 080-23504212, support@sookshmas.com for any query.
NOTE: These are live stats and may vary from the final results.
Tags used for quiz play, Play quiz Points, Points by Sookshmas score, Post Points, Comment Points Clap Points Bonus Points
R - Regularity bonus, I - Invitation bonus, M - Mentor bonus, L - Level bonus, Q - Quality bonus